Find out how neck liposuction can be used to remove excess neck fat and create a sharper, more youthful neck contour.
It seems like for many of us one of the more difficult areas to loose unwanted fat is the neck. No matter how much weight loss you have there are often residual collections of fat that can be difficult to tackle.
How neck liposuction is done
Neck liposuction
is an excellent way to address this unwanted neck fat. Fat can be removed using a small (approximately 1/4 inch) incision which is placed just behind the chin. Once this incision is made specially-designed neck liposuction cannulas are used to remove the unwanted fat.

How to tighten the neck
An additional benefit of neck liposuction is the thin layer of scar tissue that forms under the skin once the fat is removed. A lot of the improvement in neck contour after surgery is the neck skin tightening that results from the scar contracture that occurs as the neck heals. This tightening occurs thanks to the skin's elastic quality. As we age the skin is less able to shrink wrap with healing so in older patients a necklift or
facelift
may also be needed to create the proper neck contour.
Before and After Neck Liposuction Photos
This patient is a great example of how neck liposuction alone can produce a more refined neck line.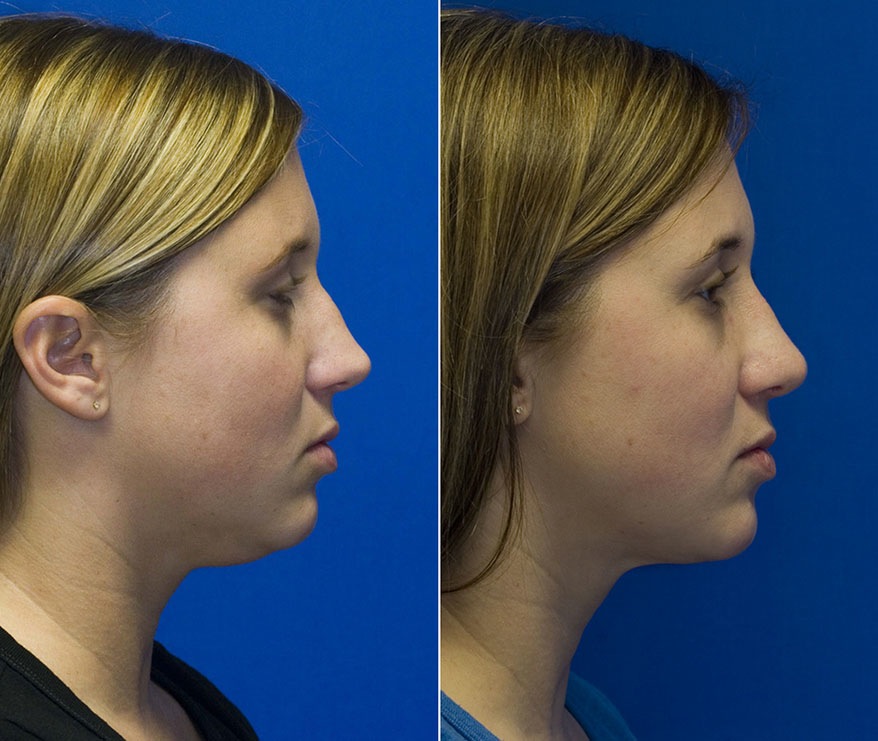 Since this patient is young and her neck skin has good elasticity liposuction alone was able to both remove the excess neck fullness and tighten the neck skin at the same time.
Check back soon where I'll go through another patient's before and after photos that show how we can use neck lift techniques to create neck tightening in patients with less elastic skin. In the meantime, you can see more photos and read more about our
patient's neck liposuction surgery
here.
0 comments
---
Leave a comment