See what a bullhorn lip lift scar looks like and find out what results surgery can achieve.
A powerful, permanent method of augmentating the lip is to have lip lift surgery. Besides improvements to the lip itself lip lift surgery also allows for powerful improvement to the proportions of the lower portions of the face.

There are a few techniques of performing lip lift surgery. The bullhorn lip lift is a common approach that is used. To find out more about bullhorn lip lift surgery let's review one of my patient's cases.

Lip lift incision placement
The following photo shows where the incision lines are placed for a bullhorn lip lift: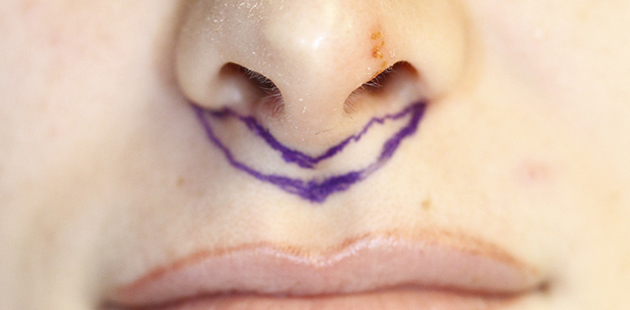 You can see how the intervening skin between the incision lines is removed during surgery. This then allows the lower incision line to be advanced upward toward the upper incision line where the resulting scar can be hidden in the natural creases and shadows of the nasal base.

Before and After Lip Lift Photos
The following photos show what results can be achieved with this lip lift approach:





You can see in the after photo on the right (taken about 4 months after surgery) how well the lip lift scar is hidden under the nose. You can also appreciate how the patient's upper lip length (distance from the red lip border to nasal base) is now shorter thanks to the lip lift surgery.
Related Upper Lip Lift Information
0 comments
---
Leave a comment